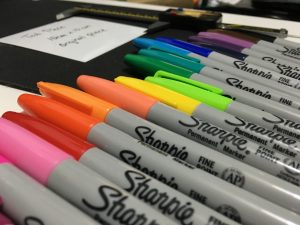 Shrinky art has been a child-hood staple of the art community for at least 20 years – since I was a kid basically. Thermo-plastics are amazing and have many applications commercially and for the humble crafter alike. I could never afford to do it much as a child because it cost a whole lot of money for relatively little, but as an adult, I have discovered a more economical way to source materials. E-bay!
I love this site – it makes all of my crafting dreams a reality, without spending a fortune (most of the time). That being said, shrinks plastic is much more cost effective on e-bay from THIS seller. That being said, it is not the clear plastic shrink art that makes beautiful jewellery pieces, it is going to be used (hopefully) to make some Pokemon earrings, but we will see how this test goes first.
Since it has been a long time since I had used this thermo-plastic, I felt like it would be a good idea to figure out what actual percentage the plastic shrunk by. It says 45% on the label, but you can't believe everything that you read. I thought a little test was in order.
All that you need to do your own test of your shrinky plastic is:
ruler (or preferably technical callipers- I realise not everyone has these on hand, but very handy for accurate measurements)
pen or markers ( I would use some of the implements that you plan on using on the shrinky plastic – like sharpies or pencil crayons)
piece of fine grit sand paper – the more fine, the better. (I used a disposable nail file because it was easy to lay my hands on)
piece of plain paper
baking tin (preferably with sides)
sheet of shrinky plastic (mine was A4 size)
pair of scissors
rigid cardboard ti line tin (baking parchment will work, but needs to be held down in a fan oven!)