Looking after people is important in our day to day lives. We seldom have the opportunity to look after people while we have a great time, but tonight was an exception! Katie McCreaddie and the people at MacMillian Cancer support were absolutely 24 Karat at bringing the idea of 'helping' to a party, with
the 'Hollywood Glam Ball, 2016'.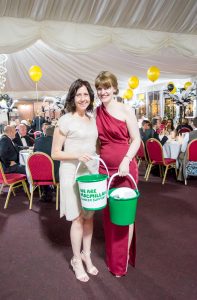 Lazaat Hotel made their venue available to the 100 + patrons to host this swinging event. The marquis-style atmosphere gave the impression of a secretive but glamorous Hollywood garden party.  The glamour and the glitz was emphasised by the beautiful design of the tables and the decorations  supplied by Ambience. The ostrich feathers and majestic vases paired with tea-lights and mirrors were chic and tasteful. The guests also had the opportunity to indulge in a photography experience hosted by Premierbooth UK, to take an image home with them from the night with some very quirky props.
Everyone was dressed to impress, and the entertainment was captivating. There was a full line-up of things to keep every guest riveted. The professional dancers swept across the floor while the guests arrived, with prosecco in hand to set the mood. There were charity opportunities galore, with games and raffles, all being shepherded by the MC for the evening, Mr. Will Chambers (AKA Nineties Boy).
While the diners savoured the delicious food, they were entertained by a professional vocalist who set the mood with some vintage music that kept the mood slightly mysterious and true to theme. As the desserts were served, some very e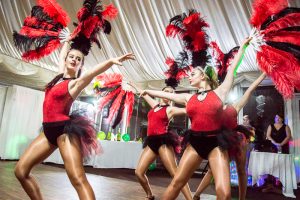 ntrancing young ladys took the stage to impress with luxurious feather fans and glitter. The formal schedule of entertainment was concluded with the vocal stylings of a contemporary performer that sang wonderfully while the coffee was served.
After the raffle prize winners were announced, and the balloon pop prizes were distributed, it was time to hit the dance floor with more prosecco. The guests danced the night away until the early morning hours with the well equipped DJ to keep them jiving all night long.
I would definitely like to say a big thank you for asking me to document this event for you. Keep an eye out for the next fund-raiser in your area – they are not to be missed!