or it "can" be, more accurately stated. I have always loved picking berries, growing vegetables and fruit and generally crafting the things that sustain us and fill our bodies. My mother was the one that always instilled the idea of self-suffiencieny in both my sister and I. Growing up in Eastern Canada always gave me ample opportunity to take these values and act on them, but I soon realised that when I moved to the UK, these sorts of activities are very different. I am definitely not saying that they are harder, just have individual issues that you don't consider when you immigrate.
The lack of garden space is the major inhibiting factor, but then there is the lack of wild areas that I always grew up with and took for granted. Sure there are parks and forests, but you don't often come across wild strawberries, raspberries or apples – you would have to travel a long distance to find wild blueberries too. I grew up in the country and these were all things that I had regular, seasonal access to on the hydro lines, just a few short minutes walk away.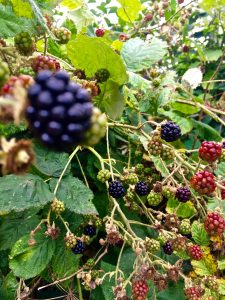 Skip to 2014, where my my husband is a post graduate student at Hull University. I know that this sounds un-related, but hang on, I am getting there. I had traveled in to the university with him and we parked in the sizable car parking lot that backed onto a field. I didn't think mush of them at the time, but the hedgerows that lined the field were pleasant enough and were home to lots of morning glories and flowers. I very quickly noticed that these hedgerows were also very heavily loaded with some of the biggest blackberries I had ever seen. I picked a handful, to my husbands horror and lamented that I didn't have any kind of container in the car to pick more. We went home later, and I never did get back to that car park during the berry season to pick more. I regretted it in the beginning because fresh fruit is expensive – especially berries – and I couldn't get any more, but then I thought about it some more.
I hadn't picked any berries in the "wild" since probably 2008 before moving to the UK. I soon was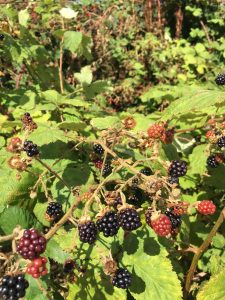 reminiscing and homesick for the activities that had been a significant part of my child-hood. It was a moment in time that transported me back to the "good-ol'-day" when it was jam making time, and strawberries stained my hands, and
my fingernails ached from hauling the copious berries needed for a years worth of fresh jam. It was un-believeable the flood of emotions that it made me feel. I regretted not getting back to live in those memories again, and knew that I had to make an effort for the next year to get back and pick again; to forage and think. The next year I did, and it was such a therapeutic but painful. The memories were not the painful parts – they were the enjoyable moments – but the actual picking of the berries; now that was a different story.
This year, I made a picture diary of the process, hopefully to show people the best way to be prepared for the process when you get the opportunity, and avoid the pain, and revel more in the therapeutic, nearly genetic need to forage.
I didn't think through my plan to go picking berries today – I thought I was going in to work on this lovely website- but opportunity knocked and I had to answer. There were hundreds of bushes and this year some of the biggest I have ever seen. As you can see here to the right, there are many to be picked, and many more still to ripen. Here are my important life lessons I learned today.
1. Always wear appropriate, sturdy and protective clothing…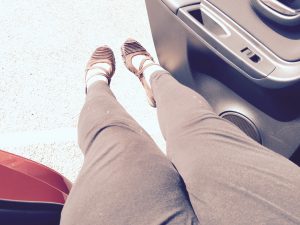 2. Always LOOK before you put your hand in the bushes, because like Forest Gump said " you never know what you're gunna get"…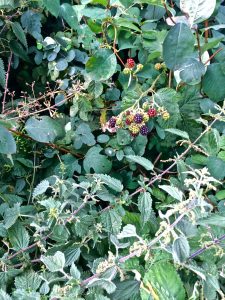 3. Make sure that you always turn the plants over…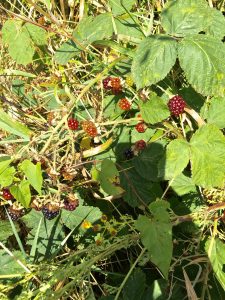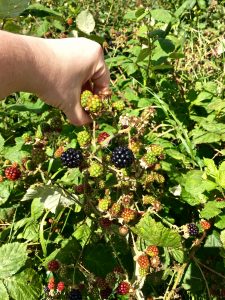 4. Bring a container (or 5) that is big enough to hold your foraging efforts…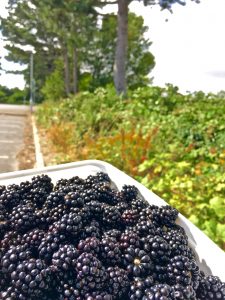 5. Don't be too greedy, and put more in your container than you can handle. It only leads to dissapointment…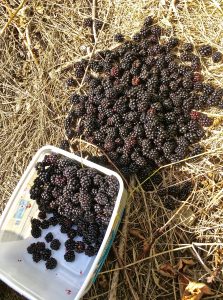 6. Wear protective gloves…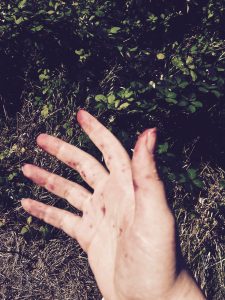 Finally…Enjoy the fruits of your labour (pun intended).